BY REV. MICHAEL S. DRISCOLL
University of Notre Dame
FRANK J. BUTLER
Belonging: One Catholic's Journey (Maryknoll, N.Y.: Orbis Books, 2020, 175 pp., $25.00)
It is a striking passage, one found in Frank J. Butler's remarkable memoir: "The scandal involving Theodore McCarrick marked an entirely new chapter for the Catholic Church. It was likened to an era of the Reformation in the sixteenth century when an Augustinian monk, Martin Luther, publicly excoriated the pope for selling indulgences and reprieves from penance." (p. 168).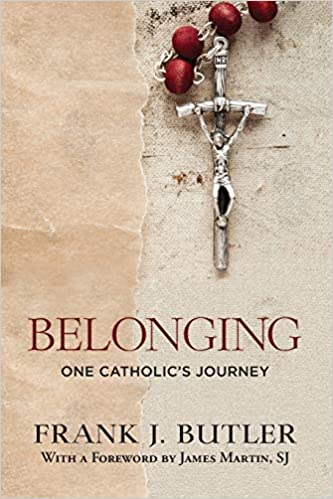 How that horrific scandal first affected individual lives and then the very future of the Church is part of the "Catholic Journey" discussed in Belonging. But there is more to this journey, a journey back in time, when life seemed simpler. There is also that voyage to the present when the challenges facing us became complicated. In the process, a life unfolds, the life and legacy of Frank Butler.
---
There are a few precious lines from Carlo Carretto's The God Who Comes (1974) that find partial expression as one epigraph quote to Butler's book; these passages point to both the agony and hope one can expect to find in Belonging:
"How baffling you are, oh Church, and yet how I love you! How you have made me suffer, and yet how much I owe you! I would like to see you destroyed, and yet I need your presence. You have given me so much scandal and yet you have made me understand what sanctity is. I have seen nothing in the world more devoted to obscurity, more compromised, more false, and yet I have touched nothing more pure, more generous, more beautiful. How often I have wanted to shut the doors of my soul in your face, and how often I have prayed to die in the safety of your arms."

Carlo Carretto, The God Who Comes (1974)
Though the feelings are sometimes mixed, and the criticism sometimes severe, there is, nonetheless, a certain reverence at work here that reveals the author's fighting faith, even when it sometimes means contesting the words and deeds of the Church's hierarchy.
An idyllic period
"To be rooted is perhaps the most important and least recognized need of the human soul." Simone Weil wrote those words while living in London working for the Free French Forces under de Gaulle. L'Enracinement (The Need for Roots) was published in 1949 six years after her death in 1943. Her purpose for writing this book (actually a policy report) was to sketch out a new vision for France after the liberation. Having left France early in the years of the Nazi occupation to accompany her elderly parents to safety in New York, she personally experienced a form of uprootedness. This work was her clarion call to her fellow French citizens to recover their spiritual roots. She died of tuberculosis a year after writing her final and possibly greatest work.
Two years later Frank Butler was born. His memoires begin when he is eight years old; the first chapter of Belonging is entitled "Uprooted." It deals with his family's move from Alexandria, Virginia, to Florida. His description of attending St. Rita's School and belonging to the parish by the same name in the greater DC area paints a radically different picture than sketched by Simone Weil living in war torn Europe.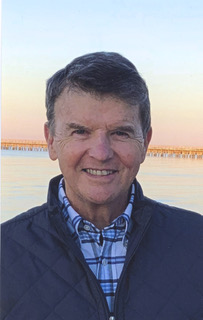 In the post-war period, prosperity drew Catholics to suburbs of the nation's capital. With the return of American GIs in 1945, Catholicism in the United States was in full expansion. Reading Butler's account of his adolescent years drew me back to my youth – to a kind of idyllic period when a sense of belonging was palpable. It was like reading the fictionalized memoir The Last Catholic in America by John Powers. It didn't matter if you lived in Chicago, IL, Arlington, VA, or Butte, MT, there was a childhood innocence and optimism that was ubiquitous and permeated Catholic lives everywhere. The revered church historian John Tracy Ellis captured the enthusiasm in his landmark American Catholicism (1956, 1969).
In the 1950s churches and seminaries were bursting at the seams, religious vocations were at an all-time high, and the GI Bill allowed returning soldiers to seek college diplomas and professional training. Ellis notes three milestones that speak to this exuberance: (i) the growing number of Catholic PhDs and other professionals, (ii) along with this the growing number of Catholic millionaires, and (iii) the election of John Fitzgerald Kennedy, the first Roman Catholic president.
Uprooting
Against this backdrop Frank Butler negotiated his first sense of uprootedness, but this was a prelude for what would follow in his life. Possibly this was feasible since he felt he was part of something larger than himself. He writes: "A simple joy about things Catholic coursed through my young veins" (p. 9). He quickly adjusted to Patrick Air Force Base living on the shores of the Banana River where he discovered the massive manatees. Like Huck Finn life was full of new adventures. Then tragedy struck! His father died suddenly of a heart attack at forty-one years of life. Would this lead to a second uprooting? The decision was made to remain in Florida but to move to nearby Cocoa Beach where the family would live during one of the most expansive periods in Florida's economy. In the shadow of Cape Canaveral, the United States was poised to enter into the superpower race to the moon. Amidst the personal turmoil in the family, the Catholic Church remained a touchstone of stability.
From the security of Florida would come another uprooting— this time Frank would go to seminary. On an early September morning in 1958 Frank boarded a Greyhound bus destined for Little Rock, Arkansas, to attend St. John's Seminary. This institution in the heart of the Bible Belt served primarily southern dioceses, including Florida. Here in this "port of peace" he spent the next eight years. He seemed to move from thirteen years old to manhood overnight. It was from here that he would be launched onto the roads he has traveled in philanthropy, social justice and the desire for reform within the Catholic Church.
Like Simone Weil, he felt deeply that true social justice only came from showing love of neighbor meant actively seeing to everyone's basic needs of body and soul. St. John's gave him an excellent philosophical formation and offered him exposure to the social gospel tradition of the Catholic Church thanks to activist priests on the faculty. During his high school years there was a rising awareness of racial injustice. In 1957 a crisis over desegregation arose in the Central High School at Little Rock. President Dwight Eisenhower had to call in federal troops to ensure nine Black students (the Little Rock Nine) could attend the previously all-white high school safely.
In transition and translation
For Butter a personal sense of déracinement crept in regarding the requirements of celibacy and strict obedience. His departure from the minor seminary coincided with the sudden closure of the institution by the local bishop. This abrupt decision by episcopal fiat would portend a clerical sexual abuse crisis in future generations. Nevertheless, he moved to Washington DC to attend major seminary at Catholic University of America (CUA) and Theological College (TC).
This was an exciting time as the Church attempted to translate the constitutions and decrees of the Second Vatican Council into the daily life of its fold by becoming truly catholic in nature which Simone Weil had so much desired for the Church as an institution. But for Butler, his aspirations to become a priest did not endure for long. Discerning that he did not have a priestly vocation, he departed the seminary and found a new status as a layman seeking a professional degree in theology. In the ensuing period of time he met his future wife, Fran, in a picket line during a student strike at CUA over the firing of moral theology professor Fr. Charles Curran.
After securing his degree from CUA, Butler was hired by the United States Catholic Conference working with a Catholic sister in her role as intermediary between Catholic hospitals and the federal government. Working in the non-profit sector he helped Catholic hospitals enter in discussions on health care. In addition to working with sisters and their hospitals, he was interfaced with health policy officials, unions and community leaders, living out fully his commitment to be attentive to the needs of others, all others. It was also during this time that he interacted with bishops and observed how ecclesial business was transacted. He writes: "The spirit of the faculty at St. John's inspired me as I made the case for fairness and justice in health-care access and helped the audience to see that health coverage was a corollary of papal and conciliar teach" (p55). His rootedness in Catholic institutions and Catholic theology was taking hold.
And yet there was a pause in his thinking, the kind that makes a man step back and look at his world anew: "Despite [its] noble aspiration [of enthusiastically responding to the social and spiritual justice call of the Second Vatican Council], for some in the hierarchy, Call to Action was a threat to the established order, especially as its process exposed injustices within the life of the church itself that required discussion and resolution." (p. 76) Here again we witness a most unusual perspective, namely, the ability to be critical precisely because one cherishes those values which are preached but not practiced.
Fast forward to the present: Frank Butler currently serves on the National Catholic Reporter board and is a trustee for the Mathile Family Foundation in Dayton, Ohio. After serving in a senior staff position for what is now the U.S. Conference of Catholic Bishops, Butler spent more than 30 years as president of Foundations and Donors Interested in Catholic Activities (FADICA), philanthropic network dedicated to Catholic causes from which he retired in 2012. The organization accomplished a variety of initiatives through consultations with the bishops and helped found Support Our Aging Religious! (SOAR!) It provides funds and grants to aging and infirm religious.
Impetus for sharing his story
In the prologue to his memoires Butler states that the impetus for sharing his story was the sexual abuse scandal, particularly regarding former cardinal Theodore McCarrick, Butler's own bishop whom he knew. He had to reconcile a life of deep devotion to the Catholic Church with heartbreaking headlines. Many Catholics experienced the same thing and many left the Catholic Church to join other churches or to simply drift away from practice in disgust and disillusionment. But for Frank Butler he is indomitable in his faith! He writes:
"I lay awake at night remembering the church of my early years and the benevolent presence of priests at our family dinner table and their presence during the important events of my family's mourning, particularly the early death of my father. I reminisced as images of my years in the seminary–peaceful, purposeful, and joyful–passed through my consciousness as so many gentle consolations. I thought back to the difficult decision to choose a church-related career rather than the priesthood, remembering how lucky I was to find myself working as a social, policy advocate for the church in the nation's capital. I thought about the exciting decades of working with philanthropists united in their charity for greater impact on Catholic institutions."

Frank Butler, Belonging: One Catholic's Journey, p. xvii
Through the tour of his own life, he notes all the periods of being uprooted and the need to begin anew. But make no mistake. Butler is not a naïf! He does not look at the Church through rose-tinted glasses. He is well aware of the setbacks the institutional church has suffered in recent decades, but his rootedness in matters of faith and a true love of neighbor have kept him toiling within and for the Church.
Being grounded
"We clutter our lives with concerns that prove over time to be of passing consequence."

Frank Butler, Belonging: One Catholic's Journey
Thus does Butler pause to reflect as he nears the end of his book. He then goes on to say: "Even as believers we give too much space and too much to abstractions, propositions, and partisan wrangling, and not enough time for absorbing God's unconditional care for us and for reflecting on the grace of belonging to one another on this human journey." (p. 175) Much of the spirt of Weil resides in those words.
Let me close the parentheses of this review by returning to The Need for Roots: "Whoever is uprooted himself uproots others. Whoever is rooted himself doesn't uproot others." Being rooted is indeed one of our basic needs. Only when we are rooted we can grow. Butler demonstrates that when we are rooted in Christ, we can accomplish great things. The fact that Butler is so rooted in faith and the church is the reason that he has not faltered. Because he is so rooted he writes his book to inspire others to work to build a church as a place of mercy and love.
It occurs to me that alongside the metaphor of rootedness there is a complementary notion of being well grounded. To be rooted is to know from where one has come, to be firmly planted in the ground. But to be well grounded implies a certain mobility that roots do not permit. Having one's feet firmly planted on the ground means that one can move freely and that one's values go with you.
Frank Butler has spent his life always moving and changing and inspiring others to join him in this wonderful and exciting journey of faith. One can describe Simone Weil as someone with a persistent desire for truth and justice that led her to factory floors, political praxis and spiritual solitude. At different times she was an activist, a pacifist, a militant, a mystic, and an exile all the while being grounded in a deep love of Christ activated by love of neighbor. In a similar manner, Frank Butler has negotiated in many worlds, always rooted in faith and well-grounded to achieve the inspiring legacy he leaves to the world.
Rev. Michael S. Driscoll is a priest of the Helena Diocese in Montana. Since 1994 he has been on the theology faculty of the University of Notre Dame during which time he was the founding director of the graduate program in sacred music and the undergraduate minor in liturgical music ministry. He attained emeritus status three years ago.
2
Recommendations