The following is a list of the countries, cities, and regions in which Simone Weil grew up and later traveled to in her lifetime. As with almost anything Weil, the information set out below was culled mainly from two remarkable books (albeit, both in English and therefore not as thorough as their French counterparts):
Jacques Cabaud's Simone Weil: A Fellowship in Love (New York: Channel Press, 1964)
Simone Pétrement's Simone Weil: A Life (New York: Pantheon Books, 1976)
Note: For a parallel source of information, see the Timeline link on this site.
---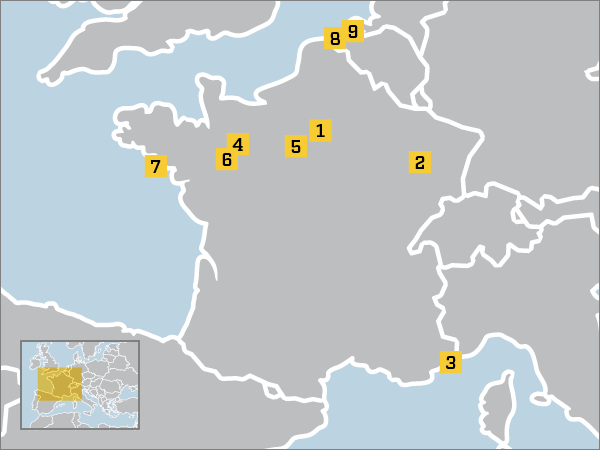 France (1909-1922)
[1] Paris (born: February 3, 1909) (19 Boulevard de Strasbourg, south of the Gare de l'Est)
[2] Neufchateau (Vosges), in [3] Menton, in [4] Mayennes (for two years), [5] Chartres and [6] Laval (wartime era)
[1] Paris, near Lycée Montaigne (1913) — moved to large apartment, 37 Blvd. St-Michel
[5] Chartres (1916) (private tutoring lessons for Simone) — attends Lycée Montaigne
[6] Laval (1917) — Dr. Weil assigned to Laval where Simone enters girls' lycée
[1] Paris (1919) — enters Lycée Fénelon
Brittany (1919 & 1920) — Weil family vacationed here on the west coast of France at seaside resort of [7] Penthièvre
---
Belgium (1922)
[8] Saint-Idesbald (summer 1922) (village on Belgian West Coast)
[9] Knokk-le-Zoute (in the Belgian province of West Flanders)
---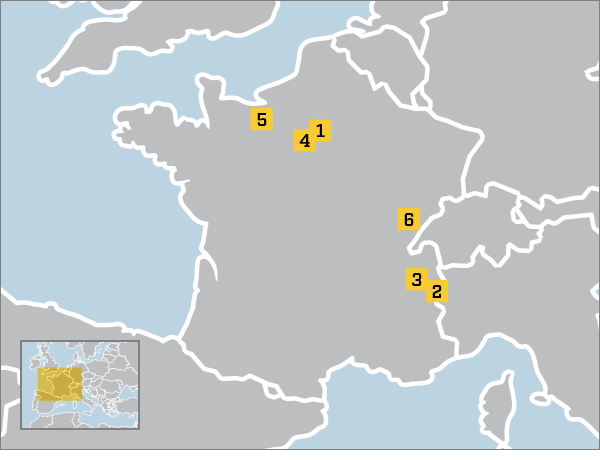 France (1922-1930)
[1] Paris (Oct. 1922) — resumes classes at Lycée Fénelon
[1] Paris (October 1924) — takes classes at Victor-Duruy Lycée)
[2] French Alps: Lanslevillard in Maurienne region — trip with her parents
[3] Challes-les-Eaux (summer 1925) (commune in the Savoie department in the Auvergne-Rhône-Alpes region in south-eastern France) — trip with her parents
[1] Paris: Lycée Henri-IV (Oct. 1925–28) — student of Alain (Émile-Auguste Chartier)
[4] Chevreuse (circa 1926–27?) (a commune in the Yvelines department in the Île-de-France region in north-central France) — in the countryside with Simone Pétrement, hiked in the woods
[1] Paris, École normale supérieure (1928) — student
[5] Normandy (Summer, 1929) — worked on a farm digging potatoes
[1] Rue Falguière (circa 1929?) — taught courses on literature & perhaps physics, wrote essays on economic and social subjects
[1] Paris (May 1929) — Weils move into apartment at 3 Rue Auguste Comte behind the Luxembourg Gardens, in Montagne Sainte-Geneviève area — a hill overlooking the left Bank of the Seine in the 5th arrondissement of Paris
[6] Marnoz (Aug.–Sept. 1929) (in the Jura region) — stays with one of her aunts and works on a farm digging potatoes.
[1] Paris (1929) — returns to after summer
[1] Janson-de-Sailly (1929) — takes courses at lycée located in the 16th arrondissement of Paris)
---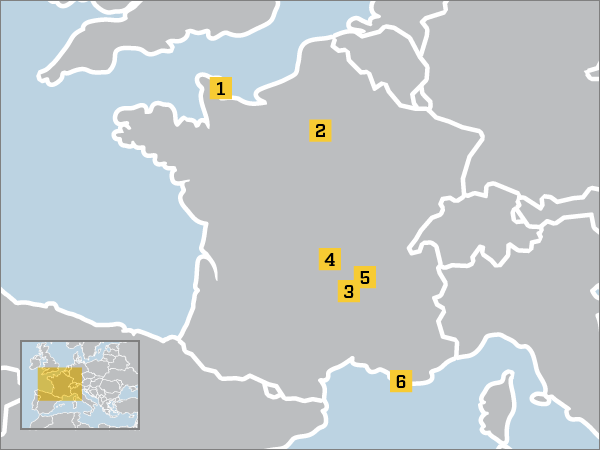 France (1931-1932)
[1] Réville (spring–summer, 1931) (a commune in the Manche department in Normandy in north-western France, a coastal town) — Simone ventures to work at sea with fishermen
[2] Paris (September 15–18, 1931) — attends national Congress of C.G.T.
[3] LePuy Lycée (1931–32) (in Auvergne-Rhône-Alpes region)
[4] Clermont-Ferrand (December 23, 1931) (a city and commune of France, in the Auvergne-Rhône- Alpes region) — Simone summoned to rectorate
[5] Saint-Étienne (December 1931–32) (a city in eastern central France ) — Simone teaches Saturday courses for workers
[2] Paris (April 4–18, 1932) / [3] LePuy — returns for brief stay
[6] Toulon (May 1932) (a city on the French Riviera and a large port on the Mediterranean coast) — Pentecost vacation with her friend Suzanne Gauchon
[1] Paris (June 16–July 6, 1932) — medical treatment / writes article on "The USSR and America"
[3] LePuy (July 6–14, 1932) — bids goodbye to students
---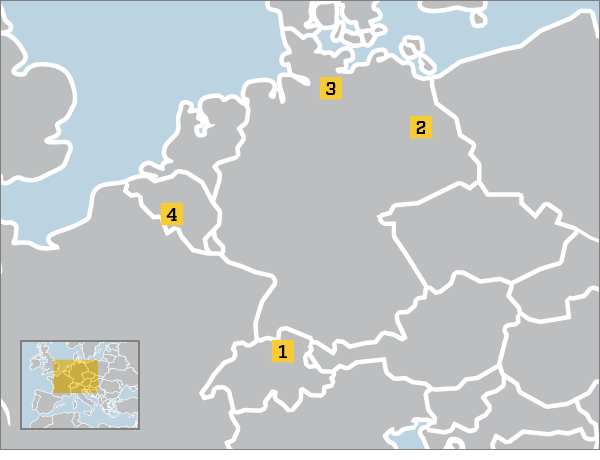 Germany (1932)
[1] Zurich (summer 1932?) — spends a few days here before departing
[2] Berlin (August 1932) — remains for six weeks
[3] Hamburg (summer 1932) — visits city with her mother
---
Belgium (1932)
[4] Charleroi (September 1932) (a city and a municipality of Wallonia, located in the province of Hainaut — Simone at miners' strike, writes an article, but left unfinished)
---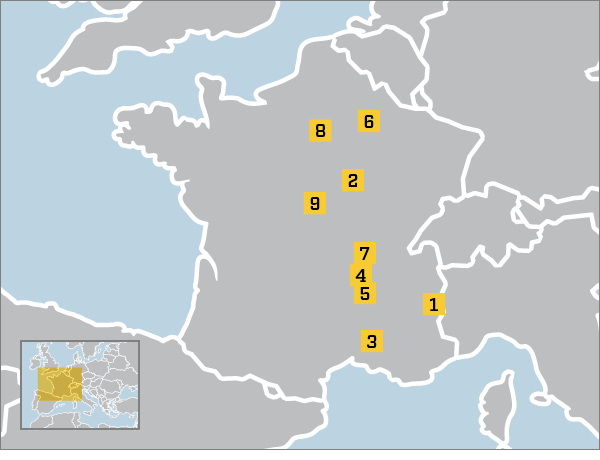 France (1932-34)
[1] Briancon (late December 1932) (a commune in the Hautes-Alpes department in the Provence-Alpes- Côte d'Azur region in southeastern France) — visits Simone Pétrement who was ill, stays at Hôtel des Neiges
[2] Auxerre (October 1932–1933) (town, capital of Yonne département, Bourgogne-Franche-Comté région, central France, on the Yonne River — Simone begins teaching there
[3] Avignon (late December 1932–early 1933) (located in Provence-Alpes-Côte d'Azur region) — brief stay.
[4] Saint-Étienne / Firminy (late July, early August 1933, and into 1934) (gives several lectures on events in Germany)
[5] Le Chambon-sur-Lignon (August, 1933) (a commune in the Haute-Loire department in south-central France — Simone parts of month there with her parents)
[6] Rheims (August 5–7, 1933) — attends Congress of United Federation of Teachers
[7] Roanne (November 1933–34) — teaches at Lycée de Jeunes Filles (manufacturing city 65 miles west of Lyons)
[8] Paris (Dec. 31, 1933) — meets Leon Trotsky at her parents' 3 Rue Auguste Comte home
[8] Paris (December 1934–March 1935) — works at Alsthom Electrical Works
[8] Boulogne-Billancourt (April 11–May 7, 1935) (a commune in the western suburbs of Paris) — begins work at J.J. Carnaud et Forges de Basse-Indre, works on a stamping press
[8] Île Seguin, Seguin Island (June 6, 1935) (an island on the Seine river between Boulogne- Billancourt and Sèvres, in the west suburbs of Paris where Simone worked at the Renault factory, machine presses)
[9] Bourges (1935–36) (a commune in central France on the Yèvre river — stayed at home of Mle Angrand — taught at lycée and later worked at Rosières factory
Late August 1935: Leaves on train for Spain
---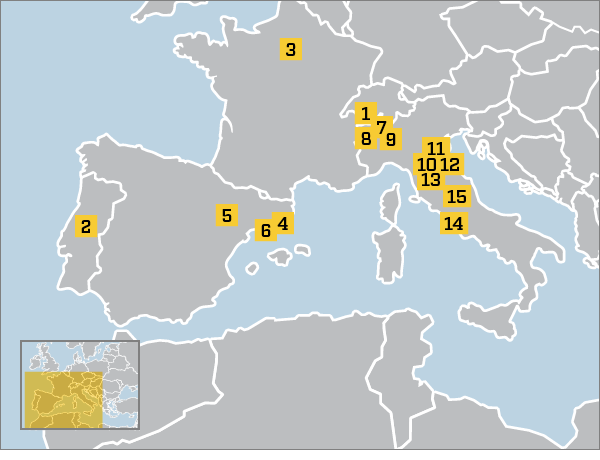 Switzerland (1935)
[1] February: Simone convalesces in Crans-Montana, Switzerland
---
Portugal (1935)
[2] Small fishing village (September 1935) — on holiday with parents
---
France (1935)
[3] Paris (December)
---
Spain (1936)
[4] Barcelona (August 1936) (leaves to join the republican front in the Spanish civil war)
[5] Aragon (mid-August 1936) — worked with anarchist-syndicalist elements of the Confederación Nacional del Trabajo (CNT)
[6] Sitges (mid–late August 1936) (town about 22 miles southwest of Barcelona, in Catalonia) — receives medical care at military hospital set up in the Hotel Terramar re accident: spilling a basin of boiling water over her left leg. Dr. Weil arrives to care for her.
---
France (1936)
[3] Paris (September 1936) — returns on crutches to convalesce.
---
Switzerland (1937)
[1] Crans-Montana (March–April 1937) — Simone convalesces
---
Italy (1937)
(Spring 1937) Travels through [7] Pallanza, [8] Stresa, [9] Milan, [10] Bologna, [11] Ferrara, [12] Ravenna, [13] Florence, [14] Rome, [15] Assisi and back to [13] Florence (inspired to pray in Assisi)
---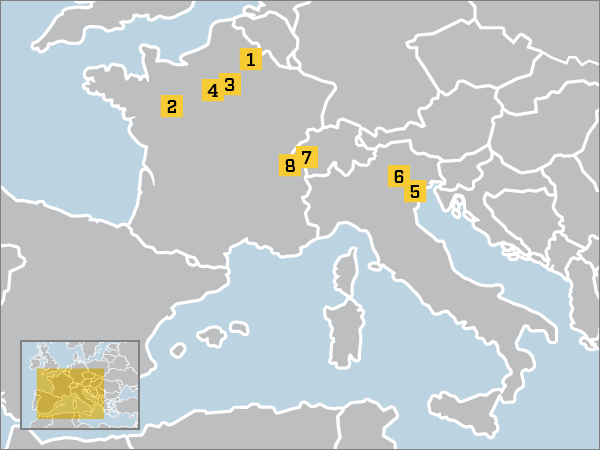 France (1937-38)
[1] Saint-Quentin (a commune in the Aisne department in Hauts-de-France in northern France — teaches at Lycée of Saint-Quentin, taught literature) — her last teaching position.
[2] Solesmes Abbey (March 28–April 3, 1938) (site of the abbey of Saint-Pierre de Solesmes, Mecca of Gregorian chant, community of Benedictine monks, to share spirituality, liturgical prayer — Christ entered her, "once and for all."
[3] Paris (Autumn 1938) mystical experience.
[4] Jouy-en-Josas (April 25, 1938) (a commune in the Yvelines department in the Île-de-France region in north-central France. It is located in the south-western suburbs of Paris — attends a mass meeting of pacifists at the Château de Moncel
---
Italy (1938)
[5] Venice (January–February 1938) — on leave from teaching
[6] Asolo (June–July 1938) (a town in the Veneto Region of Northern Italy).
---
Switzerland (1938)
[7] Montreux (early August 1938)
---
France (1938)
[3] Paris (arrives on August 14, 1938)
---
France (1938-1939)
[3] Paris (January 1938–July 1939) returns to Paris and then later applied for sick leave of the year.
---
Switzerland (1939)
[8] Geneva (July–December 1939) — on holiday for six months.
---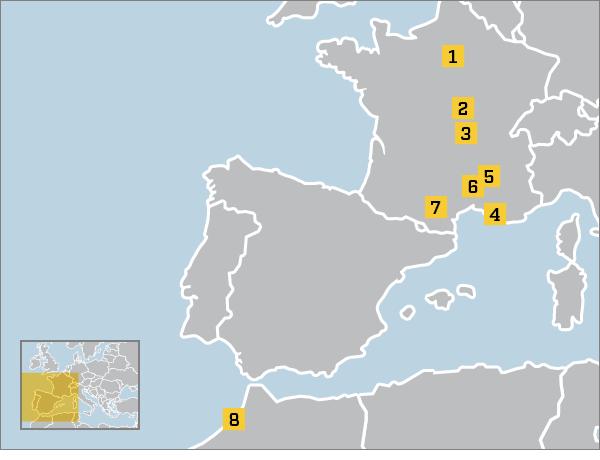 France (1940-41)
[1] Paris (January–May 1940) returns to Paris.
[2] Nevers (mid–June 1940) (a district of the Nièvre department in the Bourgogne-Franche-Comté region in central France).
[3] Vichy (mid-late June–October, 1940) — among other things, works on a play (Venice Saved) while living in a rented apartment)
[4] Marseilles (October, 1940–early 1941 and later) contacts Cahiers du Sud (autumn–winter 1940), meets Father Jean-Marie Perrin at a Dominican monastery in June 1941
[5] Saint-Marcel-d'Ardèche (August–October 1941) (a commune in the Ardèche department in southern France – Father Perrin introduces Weil to Gustave Thibon where she works picking grapes).
[6] Saint-Julien-de-Peyrolas (September 22–October 23, 1941) (a commune in the Gard department in southern France) — works in agricultural laborer
[7] Carcassonne (early 1942) (a French city in the department of Aude, in the region of Occitanie)
[4] Marseilles (May 14, 1941) — leaves notebooks with Gustave Thibon and embarks for Morocco on S.S. Maréchal Lyautey– took six days to get to Casablanca via Oran
---
Morocco (1942)
[8] Casablanca (May 20, 1942 — housed for 17 days at Aïn-Seba at Casablanca refugee camp)
---
At Sea (1942)
(June 7–June 25, 1942) — sails 3,544 miles for a month on the Portuguese ship Serpa Pinto, travels to New York via Bermuda (passenger list here)
---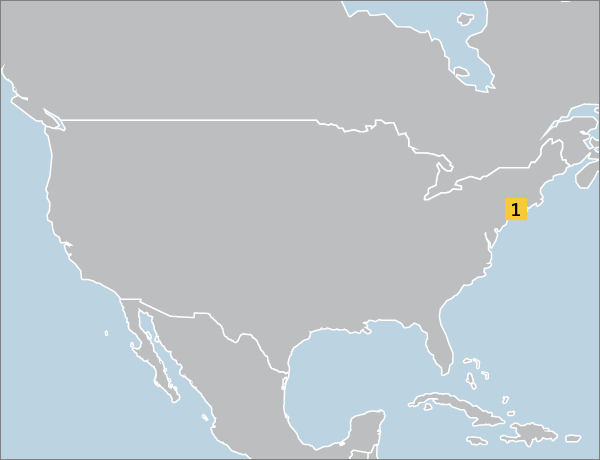 United States (1942)
[1] New York (June 25, 1942) Serpa Pinto docks in New York — lived in an apartment at 549 Riverside Drive
[1] New York (end of June to November 10, 1942) — went to mass almost daily at the Franciscan Church of Corpus Christi at 121st Street, also attended services at synagogue of Ethiopian Jews and later went to Sunday services at Baptist church in Harlem at 125th Street / October: writes New York notebook / leaves for London, 15+ day voyage on Swedish cargo boat Vaalaren.
---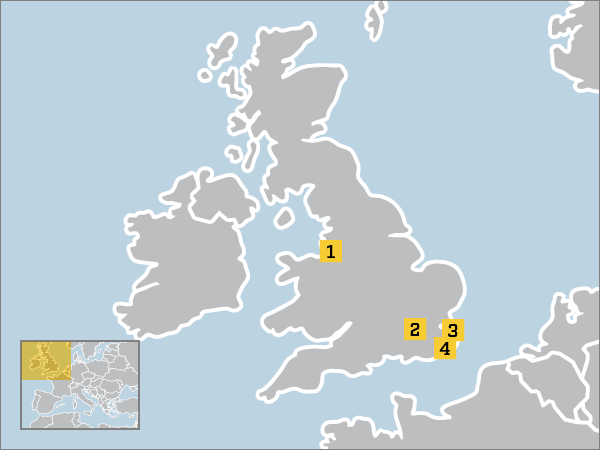 England (1942-43)
[1] Liverpool (November 25, 1942) — arrives and then sent to a clearing center on the outskirts of London known as the Patriotic School.
[2] London (December 14, 1942) — temporarily stayed in barracks that housed Free French women volunteers
[2] London (January 1942–April 1943) — writes report for the Free French (The Need for Roots) and assorted articles including "Human Personality"
[2] Notting Hill (mid-January–April 1943) — rents a room at home of Mrs. Francis, 31 Portland Road, Holland Park, works for Free French at small office on Hill Street.
[2] Outskirts of London (February–March? 1943) — went to Hyde Park on Sundays, went to theater to see performances of Twelfth Night and King Lear, prays at Brompton Oratory, and goes camping with Simone Deitz, sudden rainstorm.
[2] Notting Hill (mid-April 1943) — Simone Deitz finds Simone prostrate on the floor of her room
[2] Middlesex Hospital (April 15, 1943) — hospitalized (pneumothorax)
(July) — resigns from Free French
[3] Kent (August 7, 1943) — admitted to Grosvenor Sanatorium at Kent, bed no. 104
[4] Ashford (Tuesday, August 24, 1943: dies / August 30th buried in Bybrook Cemetery, Ashford, England)
The following is a list of the countries, cities, and regions in which Simone Weil grew up and later traveled to in her lifetime.
2
Recommendations